What Is Minimalist Setup? Why Popular With Young People Today?
Created Date: 26 May
For many people, the concept of Minimalist Setup is still quite strange.
Minimalist Setup - Minimalism is a growing trend in offices and home corners around the world. Minimalist Setup is rooted in Japanese culture, minimalism is like a lifestyle, personality and mindset as well as an aesthetic. According to many recent studies on the impact of our surroundings on our mental state, clutter can have an adverse effect on productivity.
Clutter creates distraction, reducing our ability to focus. It can put your mood down, especially if you're someone who values cleanliness. It's no surprise that Minimalist Setup has become a trend in the modern workplace as a way to reduce clutter and increase productivity.
In the most basic sense of Minimalist Setup, to keep the workspace minimalist, you need to set up as few items as possible on the desk. It might just have a monitor, desktop or laptop, keyboard and mouse on the table, with everything else neatly stowed away or things you don't really need for your work. can be saved.
Clean-looking workspaces and monochromatic colors are hallmarks of minimalism. Whether you're trying to create an open space in your home to focus on work or creative projects, or simply want to clean up your office workspace, here are some tips for creating a minimalist style desk:
> Set personal goals

First and foremost, ask yourself, WHY do you want a minimalist home desk?
Feeling unsatisfied with your productivity level? Do you feel distracted throughout the day? Is the constant clutter bothering you? Do you have a hard time distinguishing between work time and play time?
Whatever you're doing or trying to improve on, make sure you have a clear set of goals in mind. Taking steps toward a minimalist desk setup should serve those goals first. And the smart lifting table from Ergolife can help you quickly increase efficiency while working.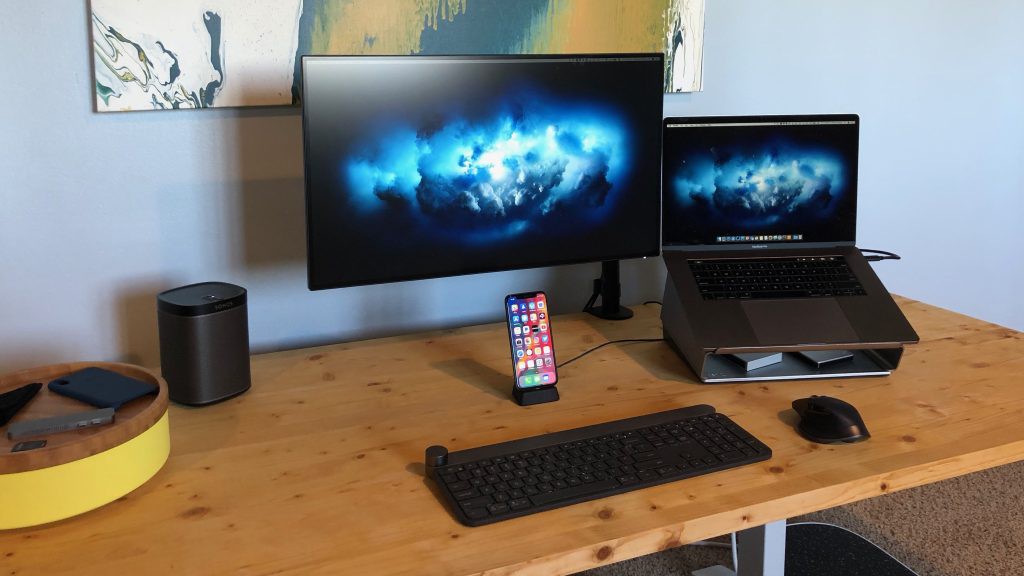 > Make a list of the things you can't do without.
What does your office need? Things you absolutely can't do your job without? If you want a Minimalist Setup, it might just be a laptop, a table top and a power cable…it might be enough.

But for programmers and designers, a separate monitor can definitely make a difference in getting you to work. Because using only the laptop screen, it may cause eye strain or the performance is not equal to using a separate screen. And with Ergolife's monitor arm, the monitor can quickly adjust to your viewing needs for better viewing comfort and also make your desk look neater and more refined.
Helps the space on the desk not be occupied by too much space by the screen, becoming more neat.
> Clean up the area around your home office
There is no better way to have a Minimalist Setup; it simply cleans up. No need to think strategically about rearranging your furniture - the simple act of cleaning can transform your workspace. Your work area should be distinct from other areas of your home, even if it's just a small area of your limited living space.
When you enter this space, no matter how small, your mind and body must immediately know that it is time to get to work. Not only will this be beneficial in boosting your productivity, but it will also help you enjoy your free time away from work - just as important!
> Keep work and leisure time separate
This may not be directly related to maintaining a Minimalist Setup home desk - minimalism style, but a simple but clear demarcation between work and play is extremely important for with your productivity. It also helps you keep your home desk minimalist in that everything you use in that area is purely work-related.
When you keep work the sole focus of your home desk, you'll be able to easily keep things as simple and minimal as possible - and stay focused on the tasks at hand. Consider setting time limits for work and rest times during the day. If you live with other people, make sure they know that your work time is purely for work and you are not disturbed during it.
And you won't expect the unexpected benefits of resetting your workspace:
Save an unnecessary expense. Instead of you indiscriminately buying everything from the supermarket to your office, now you only buy the necessary items. Therefore, at the end of the month, you will realize you have a good amount of savings. This is an important savings method for those with low income.

You will be more focused when working and studying: Many studies show that if you work in a space full of inappropriate items and are not related to work and study, you will easily lose focus. much more central. With a space designed with less junk, it will help you focus only on the work you need to get done.

Create more momentum of many ideas: This benefit sounds quite absurd when you don't have many utensils around, where to get ideas? But according to experts, the less furniture around your workspace, the less distracting you will be. From there, you will have more space to observe more closely than other things outside the window, on the ceiling or simply your desk. And this is the source of breakthrough ideas that surprise you. This has been researched and verified in practice.
> Which products should you choose to set up the Minimalist Setup corner?
To perform a Minimalist Setup corner is not difficult. The first thing you need is the right products for your Setup angle.

Đầu tiên, hãy nói đến một chiếc bàn - nơi bạn sẽ đặt tất cả mọi thứ lên đó từ PC, laptop... cho đến dụng cụ trang trí. Bạn có thể tùy chọn nhiều loại bàn tùy thuộc vào không gian phòng của bạn, nếu không gian quá nhỏ, bạn có thể chọn một chiếc bàn chữ I để tối giản diện tích ví dụ như: Bàn Nâng Hạ Ergonomic Flexispot ET268 hay nếu bạn cần một góc bàn rộng hơn để đặt nhiều thứ hơn thì bạn có thể chọn chiếc bàn chữ L như: Bàn Nâng Hạ Ergonomic ERD-2300 (Chân L) chúng sẽ thực sự hữu dụng với bạn.
If there is a table, there must be a chair. A Gaming chair? Hmmmm, nah... it's too big and doesn't suit the Minimalist Setup style even though it's all black. Try the Ergonomic Chair! A line of compact chairs, delicate design and colors that are extremely suitable for the Minimalist theme such as Black - Gray... You will certainly also be satisfied with the ability to support the health of the user. It will make your back really comfortable no matter how long you sit. Ergonomic chairs also have a wide range of prices, from 2 to 3 million dong, you can refer to chairs like SIHOO, typically SIHOO M18 or SIHOO M90 or Herman Miller's recently launched chair model, which is the Public Chair. Thai Hoc Herman Miller Aeron 2. If you have a table, a chair, you must have a PC, and a PC case, you just need a black or gray case. In addition, you can also compact power cords or chargers of all kinds thanks to electrical accessories from Ergolife.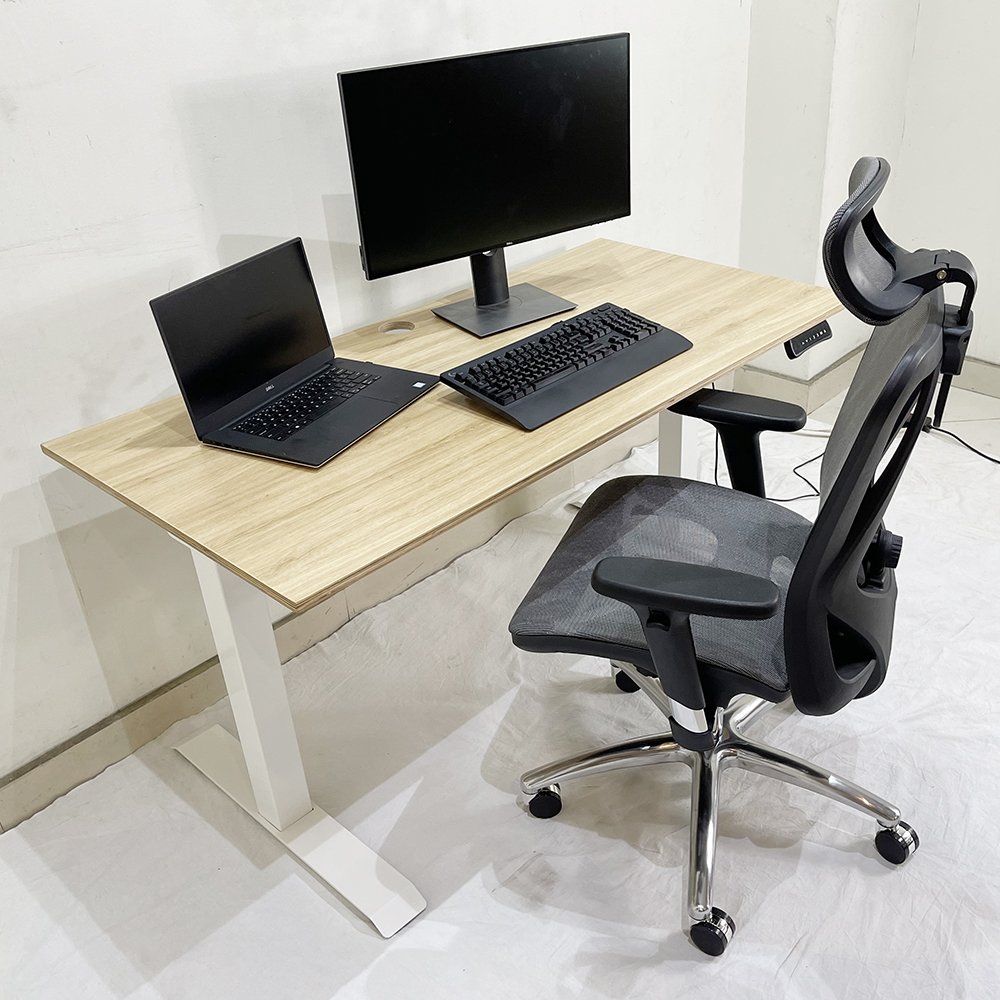 No matter how you do it, there are ways you can make small changes to your home office desk setup to make it more of a Minimalist Setup corner and focus more on making you happy. , healthy and productive throughout the working day. What are some of your tips for making things simpler, more focused and minimalist in your Minimalist Setup? Let Ergolife know