10 Bad Habits When Sitting At Work Of Office People Affect Health
Created Date: 26 May
Most people who have to sit for long periods of time working on computers or papers have bad habits that affect their health.

For example: Sitting at work for too long, sitting in one place without moving and sitting in the wrong posture... is one of the bad habits to the health of people sitting at work.
Ergolife explores the 10 most common reasons among many others.

1. Wrong position and distance from the eyes to the computer when sitting and working.

Most people have the wrong sitting posture to look at the screen, because the time spent looking at the screen a day for office people takes up a lot, so when sitting in the wrong posture will lead to negative effects on bones and joints.
The eye should align with a point on the screen, located about 5-7 cm below the top edge of the screen. Maintain a distance of about 50 cm from the eyes to the screen. This way, your head will stay straight, without tilting or leaning forward.
And to prevent bad posture, Ergolife's ergonomic office chair can do just that!

2. Back is not straight when sitting at work

Experts recommend that your back should be in line with the back of the chair, avoiding leaning forward. This will help reduce back fatigue when sitting for a long time.
And when you sit up straight, your back against the chair will make your body feel more comfortable. At this time, the waist and hips have a fulcrum, helping to reduce back pain and soreness.
3. Sit without touching the ground

Seat height is considered appropriate for outsiders when the entire soles of the occupants' feet are placed parallel to the floor, thighs and shins form a slightly more than 90 degree angle, with the back straight. Experts also recommend taking off shoes, especially shoes with heels, to create comfort for the feet.
And to make it more comfortable to sit without feet touching the ground, Ergolife has support products that help you maintain correct posture over the long term mastering beneficial habits.
4. Sitting cross-legged
Many studies show that, crossing your legs when working at a desk will make blood vessels tighten, affecting blood circulation and blood circulation. It can even lead to high blood pressure, or make it impossible for blood to flow evenly to the feet. In some more severe cases, the spine of the person sitting can be deformed, so every time you sit cross-legged, stand up and stretch or walk a little to relax.
5. Not using assistive devices that lead to wrong posture

Maintaining a correct sitting posture when sitting for a long time is very difficult. So researchers have created a lot of suitable support items such as backrests, seat cushions or footrests... All to help the body maintain the most comfortable posture and contribute to improving work efficiency while ensuring health and spirit

6. Refusing to correct posture when sitting wrong

When sitting in the wrong sitting position, don't be subjective, just adjust a few steps, even if it's small, but it will also play an important role to make your sitting position the most comfortable. Don't use a normal chair because you can't adjust it.

Some experts also recommend that you can use a smart lifting and lowering ergonomic table to be able to adjust your posture from sitting to standing easily and quickly.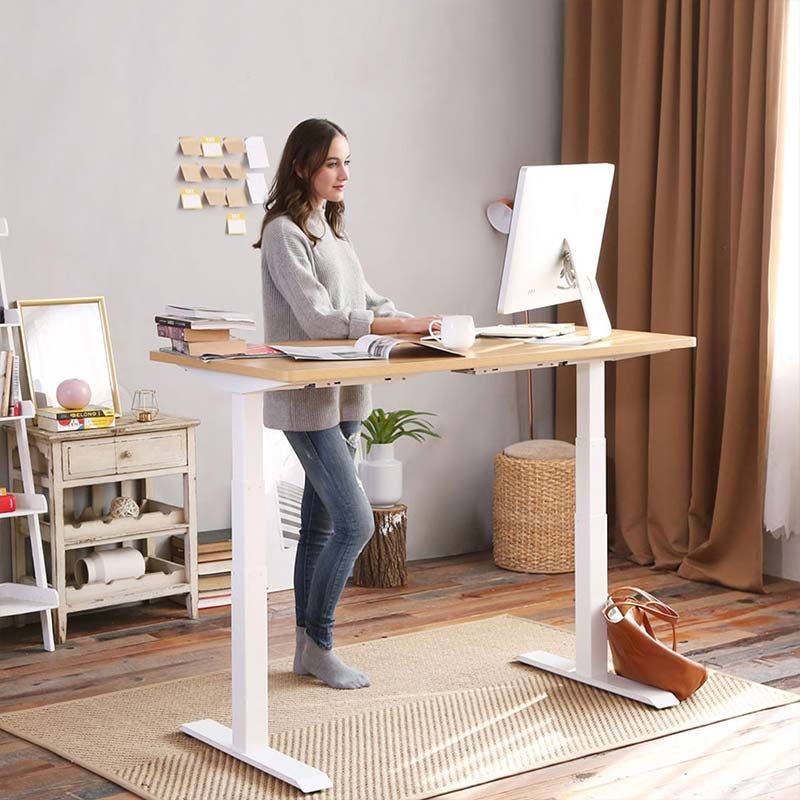 7. Do not take a break when sitting for more than 30 minutes

Sitting for a long time can lead to muscle fatigue. So after spending some time sitting with the right posture, you can still return to a sitting position that can damage your back. In this case, take breaks more often. And the most suitable is that every 30 minutes of sitting and looking at the screen, you should get up and exercise your eye muscles for at least 20 seconds and do some gentle exercise every hour.
According to researchers, maintaining this good habit will help you prolong your life.
8. No seat height adjustment

In order to have a correct sitting posture, adjusting the height of the chair is also an important thing. Every time you sit down to work, you need to adjust the height of the chair so that your hips are slightly higher than your knees.
It can be difficult at first, but you need to try to maintain this position as much as possible to let your body get used to this new position.
Many chairs are not bad, but they lack the necessary features to provide comfort and maintain correct posture for the occupants. Unable to change height, tilt, lack of supporting details such as headrest, armrest are limitations that can be seen compared to ergonomic chair products.
9. Posture for hands while sitting

When sitting at work, if you put your hands and arms in the wrong position, it can cause headaches, shoulder pain, and numbness in your hands in the morning. Arthritis can even be caused if this wrong posture is prolonged for a long time. The correct position is to have the arms bent at a 90-degree angle when typing or working at the computer. You should not lean on the keyboard when typing, so use your whole hand to hold and move the mouse easily.

10. Don't use headphones to make phone calls

Experts recommend wearing headphones when talking on the phone. This helps maintain the correct sitting posture and head position, helping you to reduce back pain, especially when making a lot of calls.

From the above reasons, owning an ergonomic chair and a smart electric lifting table is a necessity for office workers as well as those who have to sit for a long time.
In order to avoid bone and joint diseases as well as bring a healthier life, right now you should save an amount to invest in yourself products with genuine warranty at Ergolife!